The Love House is a building in the game Tiny Farm.
Info
Price: 15,000 Gold (Level 15 required) (1 per farm)
The Love House provides 5 Love Points after specific time intervals. Just like the House, its appearance changes as it is upgraded.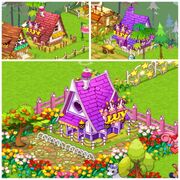 Purchasing Information

Building

Level

Cost
Restock Time
1
15,00
12 Hours
2
10
9 Hours
3
30
6 Hours
See Also
Ad blocker interference detected!
Wikia is a free-to-use site that makes money from advertising. We have a modified experience for viewers using ad blockers

Wikia is not accessible if you've made further modifications. Remove the custom ad blocker rule(s) and the page will load as expected.