Welcome to the Tiny Farm Wiki
A fan created a Wikia for the mobile app Tiny Farm. The app was created by Com2uS for iOS, Android and Facebook.
"For a farm so small it fits in your hands, Tiny Farm is jam-packed with sweet surprises and endless possibilities!"
Tiny Farms was born on the 15th September of 2011!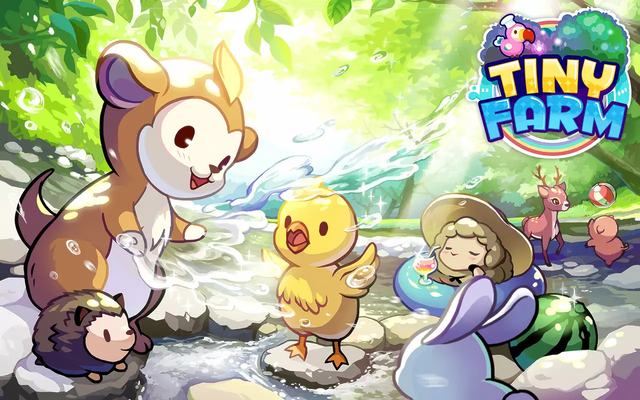 As of 27th July 2017 Com2Us no longer provides for Tiny Farm Versions under 4.7.3, so be sure to update to the latest version!
As of 27th July 2017 all type of Production Buildings can be stored in the Production Storage.
On 3rd August the Heroic Boar was added to the collection
Ben, the talking sheep, guides you as you build your farm.
Lively animals: they 'bah' and 'moo' as they roam around!
Love Points: make your critters happy to breed the best animals.
Black Sheep, Blue Cows, and Pink Rabbits...raise them all!
Become the 'true master' of taming wild animals you discover.
Connect with your friends: visit them and help them raise more animals to find rare species!
Scatter seeds: you can grow Alfalfa, Cucumbers, Ginseng and many more. Even seasonal crops will appear.
Darling designs and decorative structures mean your farm is unique and gorgeous! Some of these structures can produce Gold, Bells, or Exp Points.
Collection Book - Collect animals, decorations, recipes, Egg decorations
Breeding - Information on breeding animals and Love Points. Breeding Barn to breed with neighbors. Maybe try for a Panda!
Crops - All the information on crops you'd want to know. Harvest a crop in 1 min for Gold!
Buildings - Tells you what each building does, and includes information on building upgrades. Gifts and Love Points can be produced from the Buildings as well!!
Friends - Explains how to visit friends and use the messaging board's interface.
Events - Information on how to complete the current event during the game and a few tips.
Quests for Events - Quests that are linked to the Events Quests a list of possible quests Ben the sheep will have you to do for different rewards. This list only shows a few of the quests
Heroic Animals - The final tier for standard animals is here! These creatures have special skills and take lots of love.
Vacation Locations - Take your animals to the Beach or to the magical Toy Village.
Tiny Zoo - See the special new Wiki for Tiny Zoo
Adventurer's Cabin - What you can get from it (Kind of replaced the Ranger's Cabin that's inactive now)
Strategy Guide - A little information about how to play the game
Currently updating as of May 2017
Create blog post
Tiny News
~Tiny News~

The 4th Gem Animal has appeared in the Toy Village! Meet Alexandrite Sky Rabbit that shines in different colors by day and night!

Collect Alexandrite Coins to open Event Lucky Bags!

First come first served event for the limited edition animal is now available! Check the Event Page for more…

Read more >

~Tiny News~

Halloween is back! Meet spooky animals at Tiny Farm!

Collect Spooky Cookies to open Event Lucky Bags!

An event that guarantees the limited edition animal has begun!

Check the Event Page for more details!

The Safari Talking Ostrich quest has returned! Take this chance to complete the past que…

Read more >
See more >
Ad blocker interference detected!
Wikia is a free-to-use site that makes money from advertising. We have a modified experience for viewers using ad blockers

Wikia is not accessible if you've made further modifications. Remove the custom ad blocker rule(s) and the page will load as expected.