Aug 27th -Sep 3rd 7pm PDT 2014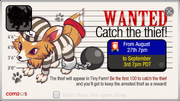 Quest
This Event is the continuation of the "Help us, Animal Detectives!" The event box will not be used, instead the Quests section will be were the steps to follow are.
After the Animal Detective Squad collection is complete use the Quest section to Catch the Thief Event Quest:
Give love to Bell at Alfredo's farm R:50 , 3000
Give love to Brown Sheep at neighbor's farm R:50 , 3000
Harvest Potatoes 15 times R:50 , 3000
Harvest Love Sweet Potatoes 20 times R: 50 , 3000 , Suspect Tile
Give love to Legendary Fox at Alfredo's farm R: 50 , 3000 , Suspect Egg
-REPEAT quests 4 and 5 for more Suspect Eggs
Ad blocker interference detected!
Wikia is a free-to-use site that makes money from advertising. We have a modified experience for viewers using ad blockers

Wikia is not accessible if you've made further modifications. Remove the custom ad blocker rule(s) and the page will load as expected.